About Me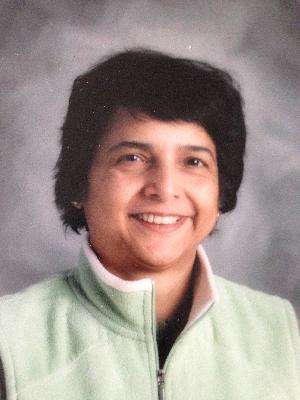 Phone: 845-486-4970 ext. 70021
Email:
Degrees and Certifications:
Mrs.

Baichwal

ENL (English as a New Language, previously known as ESL)Teacher:


This is my 12th year teaching in the Arlington School District. I have been involved in education for the past twenty five years. I received my Bachelor's Degree in Chemistry, a Diploma in Business Management, and a Certificate in Library Science from Bombay University. I received a Masters Degree in TESOL (K-12) and a Master's Degree in Literacy (B-6) from SUNY New Paltz. I enjoy teaching ENL and learning about the countries and cultures of my students. I am married and have two sons. Some of my hobbies are reading, playing word games, making cross-stitch samplers, playing tennis, gardening, and learning about the use of technology in education. I am part of a garden club and a book club. In the evenings, I teach for the Mid Hudson and Southern Westchester Teacher Centers, where I facilitate workshops for educators who want to learn more about ENL, Special Education, Literacy, and Technology. I am also an adjunct professor at SUNY New Paltz in the Literacy Department.
My goal is to teach ENL in a fun and relaxed manner. I will try my best to create a comfortable school atmosphere in which every student and family is respected and celebrated.

Espanol

Profesor de ENL (inglés como nuevo idioma, anteriormente conocido como ESL):Este es mi duodécimo año enseñando en el Distrito Escolar de Arlington. He estado involucrado en la educación durante los últimos veinticinco años. Recibí mi Licenciatura en Química, un Diploma en Administración de Empresas y un Certificado en Biblioteconomía de la Universidad de Bombay. Recibí una Maestría en TESOL (K-12) y una Maestría en Alfabetización (B-6) de SUNY New Paltz. Disfruto enseñando ENL y aprendiendo sobre los países y culturas de mis alumnos. Estoy casado y tengo dos hijos. Algunos de mis pasatiempos son leer, jugar juegos de palabras, hacer muestras de punto de cruz, jugar tenis, jardinería y aprender sobre el uso de la tecnología en la educación. Soy parte de un club de jardinería y un club de lectura. Por las tardes, enseño para los Centros de Maestros de Mid Hudson y Southern Westchester, donde facilito talleres para educadores que desean aprender más sobre ENL, Educación Especial, Alfabetización y Tecnología. También soy profesor adjunto en SUNY New Paltz en el Departamento de Alfabetización.
Mi objetivo es enseñar ENL de una manera divertida y relajada. Haré todo lo posible para crear un ambiente escolar cómodo en el que se respete y celebre a cada estudiante y familia.

Shqipërinë
ENL (Anglishtja si gjuhë e re, e njohur më parë si ESL) Mësues:Ky është viti im i dymbëdhjetë që jap mësim në distriktin shkollor të Arlingtonit. Unë kam qenë i përfshirë në arsim për njëzet e pesë vitet e fundit. Kam marrë një diplomë bachelor në kimi, një diplomë në menaxhim biznesi dhe një çertifikatë në shkencën e bibliotekës nga Universiteti i Bombeit. Kam marrë një diplomë master në TESOL (K-12) dhe një diplomë master në shkrim-lexim (B-6) nga SUNY New Paltz. Më pëlqen të mësoj ENL dhe të mësoj për vendet dhe kulturat e studentëve të mi. Jam i martuar dhe kam dy djem. Disa nga hobet e mia janë leximi, luajtja e lojërave me fjalë, bërja e mostrave me thurje të kryqëzuara, luajtja e tenisit, kopshtaria dhe mësimi rreth përdorimit të teknologjisë në arsim. Unë jam pjesë e një klubi kopshtesh dhe një klubi librash. Në mbrëmje, jap mësim për qendrat e mësuesve Mid Hudson dhe Southern Westchester, ku lehtësoj seminare për edukatorët që duan të mësojnë më shumë rreth ENL, Edukimit Special, Literaturës dhe Teknologjisë. Unë jam gjithashtu një profesor ndihmës në SUNY New Paltz në Departamentin e Shkrim-leximit.
Qëllimi im është të mësoj ENL në një mënyrë argëtuese dhe të relaksuar. Do të përpiqem të krijoj një atmosferë komode në shkollë ku çdo nxënës dhe familje të respektohet dhe festohet.

عربي
ENL (اللغة الإنجليزية كلغة جديدة ، والمعروفة سابقًا باسم ESL):


هذا هو سنتي الثاني عشر في التدريس في منطقة مدارس أرلينغتون. لقد شاركت في التعليم على مدى السنوات الخمس والعشرين الماضية. حصلت على درجة البكالوريوس في الكيمياء ، ودبلوم في إدارة الأعمال ، وشهادة في علوم المكتبات من جامعة بومباي. حصلت على درجة الماجستير في TESOL (K-12) ودرجة الماجستير في محو الأمية (B-6) من جامعة ولاية نيويورك في نيو بالتز. أستمتع بتدريس ENL والتعرف على دول وثقافات طلابي. أنا متزوج ولدي ولدان. تتمثل بعض هواياتي في القراءة ولعب ألعاب الكلمات وصنع عينات متقاطعة ولعب التنس والبستنة والتعرف على استخدام التكنولوجيا في التعليم. أنا جزء من نادٍ للحديقة ونادي للكتاب. في المساء ، أقوم بالتدريس لمراكز المعلمين في Mid Hudson و Southern Westchester ، حيث أقوم بتسهيل ورش العمل للمعلمين الذين يرغبون في معرفة المزيد عن ENL والتعليم الخاص ومحو الأمية والتكنولوجيا. أنا أيضًا أستاذ مساعد في جامعة ولاية نيويورك نيو بالتز في قسم محو الأمية.
هدفي هو تعليم ENL بطريقة ممتعة ومريحة. سأبذل قصارى جهدي لخلق جو مدرسي مريح يحظى فيه كل طالب وعائلة بالاحترام والاحتفاء.